Microchips – the future is here
Dr. Adam Teman introduces the SoC lab, operating under the auspices of the EnICS Impact Center at Bar-Ilan's Faculty of Engineering, spearheading chip design research in Israel
The field of chip design presents an unlikely paradox to innovators and developers. On one hand, a large part of industry relies in this field, also dubbed VLSI, microelectronics or semiconductors, among other names. Companies developing computational hardware, in use in almost all advanced or "smart" electronic products, base their development of chip technologies. This is particularly evident in the Israeli market, boasting many of the international leaders in these industries, such as Intel, Apple, Qualcomm, and almost any hardware company you can name.
Yet on the other hand, innovation and entrepreneurship are almost dirty words in this field. "There's always a market demand," explains Dr. Adam Teman of BIU's Faculty of Engineering, "However, the groundbreaking costs in this field are exceptionally steep. A startup based on chip technologies needs at least $50 million just as seed money, to launch a beta product with no guarantees for success. Investors steer clear from such ventures, and it's entirely understandable. Even the largest, most successful companies prefer opting for a proven product, rather than invest in a research-stage technology."
Identifying this need, an Israeli consortium called HiPer (High Performance System-on-Chip Design) was jointly established with Israeli chip companies such as Mellanox, CEVA and DSP Group and academic groups focusing on chip design research. Spearheading this venture is the Emerging Nanoscaled Integrated Circuits & Systems (EnICS) Impact Center at BIU, comprising of four BIU researchers – Prof. Alex Fish, Prof. Yossi Shor, Dr. Osnat Keren, and Dr. Teman. The objective of HiPer is to develop better chips, in terms of energy-efficiency, performance, cost, security, etc. The consortium established a lab for developing systems-on-chip (SoC Lab), within the EnICS Impact Center. "We decided to establish an Israeli VLSI expertise center, in order to bridge the gap between innovation and product, connecting the point of idea to the point of realization," explains Teman. "We aim to facilitate a smooth transition from academia and industry, and become a platform for chip-related innovation, which can be translated into industrial applications. This is the great advantage of academic research: we are not dictated to by the market, and are able to study and develop innovative solutions without risking investors' interests."
In 2016, three years after the HiPer consortium was launched, the SoC Lab completed its first chip. "It was a highly advanced chip, designed in 28 nanometer technology. After undergoing comprehensive post-silicon testing, the chip has been proven to tick every required box. This project proved that we can produce one compound industrial chip, at a much lesser cost than the $50m the industry would have had to pay," recalls Teman. "Following this successful pilot, the HiPer consortium was granted a second term (5-years total), and we are now developing a second chip, incorporating innovative developments courtesy of EnICS Labs. This new chip is produced using a highly advanced technology: 16 nanometers FinFET." Following these developments, a proposal was submitted for the establishment of a new consortium, titled GenPro, which will focus on developing a Made-in-Israel processor. Last April, the consortium was approved by the Israel Innovation Authority, and will be launched in September 2018. BIU's SoC Lab will be used as the consortium's activity hub, leading the innovative development and integration work.
And there's more: in light of the proven success of the SoC Lab, international companies have been taking notice of the EnICS research center. The most prominent company to express interest is TSMC (Taiwan Semiconductor Manufacturing Company), producer of 60% of the world's chips, including Apple's iPhone processors. TSMC's estimated worth is over $150b. The company chose BIU's EnICS labs as its singular academic partner in conducting a massive event at the Faculty of Engineering last April, participated by over 200 international chip industry leaders. "The event was such a success," recalls Teman, who co-organized the event along with Prof. Alex Fish, Co-Director of EnICS labs, "That TSMC Europe's president, Maria Marced, announced then and there that they intend to hold a similar event at BIU every year. And that's huge: a company of this magnitude usually doesn't even consider companies worth less than half a billion dollars, and small companies never get to work directly with TSMC, only with intermediary representatives. By announcing an annual BIU event, TSMC taps BIU as the leading academic chip design research center in Israel. Additionally, the company is allowing us to access their technology, which is no small matter. Conglomerates don't usually surrender access to academia, for fear of information leaking to the competition.  Bar-Ilan University is one of the first academic institutions in the world to ever receive access to their 16 nanometers technology, and possibly to other TSMC developments."
All in all, it was a good year for Teman. A former marine officer in the IDF who launched his academic career relatively late, Teman is currently leading embedded memory research at the EnICS Labs Impact Center, which he joined in 2015. This past June, Teman conducted a live demonstration of the chip he designed in the framework of the HiPer consortium. The demonstration was held in Florence, Italy, during the ISCAS international conference, the biggest annual conference on chips and circuits. Teman also won four personal research grants this year – GIF, Magneton, Kamin and Israel Science Fund, and published numerous articles in leading professional publications. Teman achieved these impressive feats while remaining faithful to his teaching responsibilities, for which he received a perfect score in last year's teaching survey. "This is all a part of the EnICS team's vision, aspiring for international success both in research and teaching, and working together to lead the Israeli chip industry to a promising future," he smiles.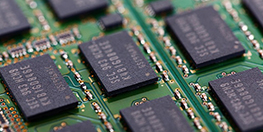 Last Updated Date : 26/07/2018