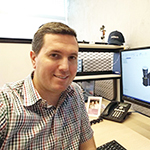 Learn to succeed
36 year old Dr. Assaf Elovic, married and father of three living in Petah Tiqwa, is a Faculty of Engineering alumnus. Today, Elovic works as a physicist at Nova's CTO group, which develops measurement systems for the semiconductor industry that allow users to command and control specific stages of the computer chip manufacturing process immediately upon their creation, without waiting for the chip manufacturing to be completed.
Read more>>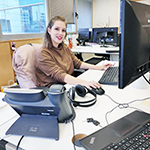 The Faculty was a platform for self-realization
Meet 27 year old Tamar Viclizki from Ramat Hasharon, Faculty of Engineering alumnus now working as an algorithm engineer at Verint. The role is mostly classified, but what we can reveal is that she's working in a department that covers the biggest buzz in the online arena.
Student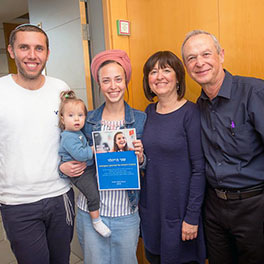 This is YOUR Career!
Shani Haizler, who has a full-ride Intel scholarship given for the advancement of women in hi-tech, has produced a faculty evening to provide students tools and techniques for job placement.
Read more>>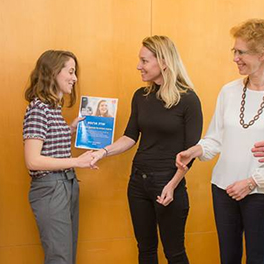 Electrical Engineering Degree Prep
Sarah Ernst initiated a mentoring project for 1st year female undergrads to ease their way into the university. Thanks to the project she was awarded an Intel scholarship for the advancement of women in technology and hi-tech
Read more>>
A winner in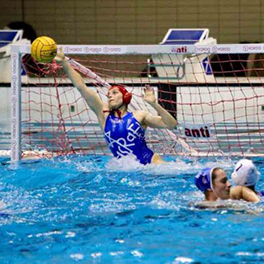 the lab, a winner in the pool
When grad student Ayelet Peres isn't working on her research in Dr. Gur Yaari's lab, where she recently developed a computation tool to analyze antibodies genetic sequences, she serves as goalie for Israel's women water polo team.
Read more>>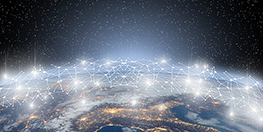 Communication Networks: The Next Frontier 
In an IoT world, Dr. Benjamin Zaidel of the Faculty of Engineering is using information theory to plan the future of our communication networks
Read more>>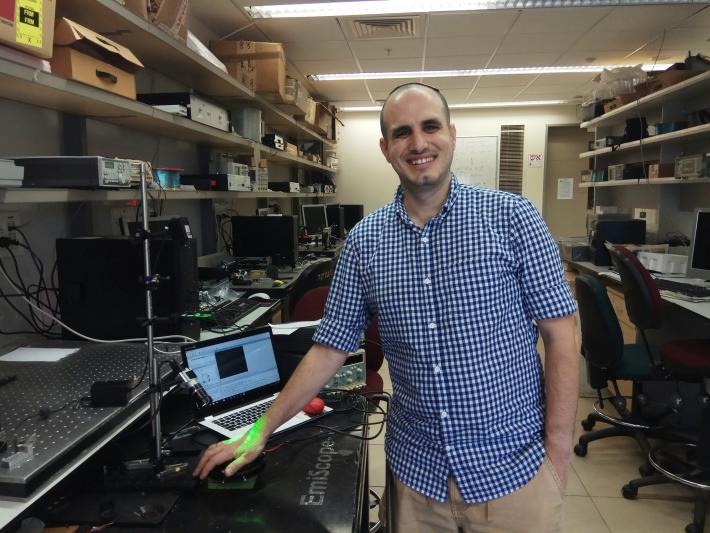 Electro-optics in Service of Medicine 
Nisan Ozana's groundbreaking medical diagnostics research has awarded him the Wolf Foundation Prize
Read more>>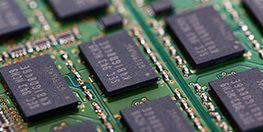 Microchips – the Future is Here
Dr. Adam Teman introduces the SoC lab, operating under the auspices of the EnICS Impact Center at Bar-Ilan's Faculty of Engineering, spearheading chip design research in Israel
Read more>>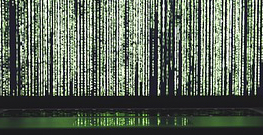 Strong Algorithms
Using approximation, online, and distributed algorithms, Dr. Dror Rawitz is attempting to solve problems related to computer systems
Read more>>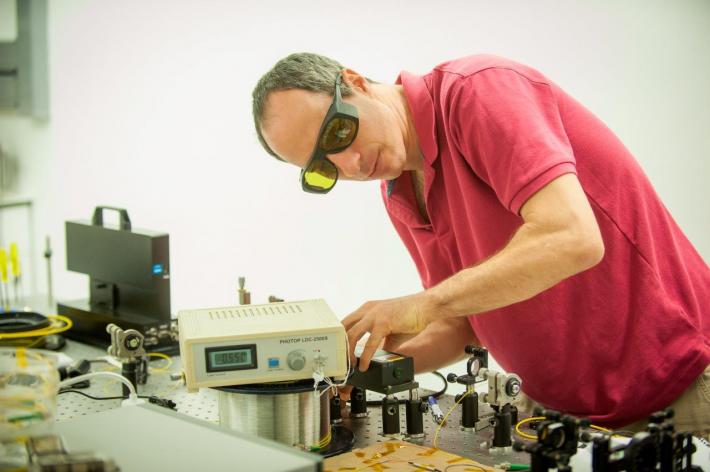 What does a mystery plaguing seamen for centuries have to do with a current research conducted at the Faculty of Engineering's Temporal Optics Lab?
Read more>>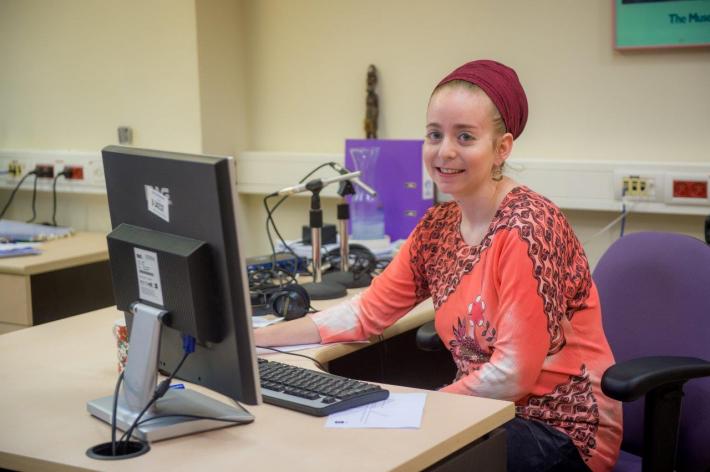 An Outstanding Academic Achievement
As a student at the Faculty of Engineering, Bracha Laufer Goldstein has won numerous awards and scholarships, the latest of which is the Wolf Foundation Prize
Read more>>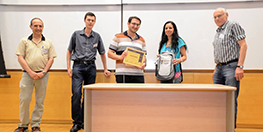 Academic Excellence and Community Outreach
Groundbreaking academic research alongside volunteer work awarded Hagai Diamandi the prestigious Azrieli Fellowship 
Read more>>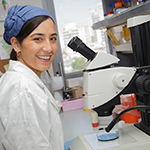 Neural Guidance by Remote Control
Michal Marcus, winner of the Ministry of Science scholarship, is developing methods for magnetic control of nerve cells
Read more>>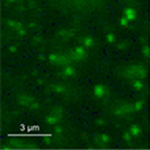 Award-Winning Research
Eran Barnoy's research earned him two awards and one scholarship
Read more>>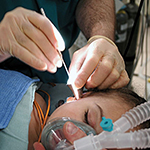 An Innovative Microendoscope for the Medical Field
In 2014, Dr. Asaf Shahmoon established his start-up, based on patents he developed during his doctoral studies in the Faculty of Engineering of Bar Ilan University. The company, "Z-Square", produces disposable microendoscopes, which can be used for a wide range of medical indications. 
Read More>>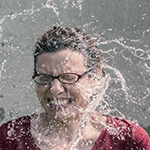 Optometric Examinations Through a Novel Application
The technology developed by Dr. Ofer Limon provides vision solutions for 2.5 billion people around the world. Six Over Six, headed by Dr. Ofer Limon - a graduate of all three Faculty of Engineering degrees - is based on a breakthrough technology which performs full optometric testing by means of a software application alone.
Read More>>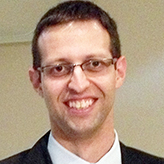 Bringing Innovation to the World of Medicine
In 2014, Dr. Asaf Shahmoon established his start-up, based on patents he developed during his doctoral studies in the Faculty of Engineering of Bar Ilan University. The company, "Z-Square", produces disposable microendoscopes, which can be used for a wide range of medical indications. "In fact, these endoscopes are so small that they can open the door to new areas and provide indications that until now did not exist, such as in the fields of gynecology and otolaryngology", says Shahmoon. "Our microendoscope provides a highly advanced solution because it contains a very high resolution in a very small device, such as has never been seen before".
Read more>>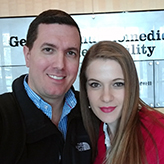 Outstanding Couple
When Dr. Tali Ilovitsh was just starting out and was still undecided about the best place for her to study, she asked Dina Yamini, Head of the Faculty of Engineering at Bar Ilan University, why she should choose the Faculty. Dina assured her that she would not have any regrets, both professionally and personally. Nine years later, as she set off for a post-doctorate at the University of California, Davis, she was joined by her husband, Dr. Asaf Ilovitsh, whom she met in the corridors of the Faculty, and by her three little children.
Read more>>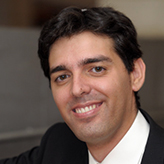 Teaching as a Mission
Dr. Kobi Cohen completed his doctorate in a field that is very much in demand, yet he nonetheless chose to remain in Academia. He recently joined the academic staff of the Department of Electrical and Computer Engineering as a Senior Lecturer at the Ben Gurion University in the Negev. "I have great satisfaction that my work as a member of the faculty of Ben Gurion University allows me to research subjects at the forefront of technology and to contribute to the advancement of science. Beyond excellence in research, I view teaching and cultivation of Israel's future generation as a mission and a responsibility," he says.
Read more>>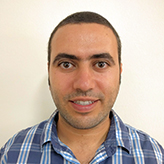 Best Student Paper Award
In his doctoral work, supervised by Prof. Sharon Gannot and Prof. Yaakov Goldberger, Shlomi Chazan focuses on processing speech signals and deep learning. "I am currently working on technologies for speech-enabled appliances, such as tablets and smartphones and smart home devices, such as Google Home or Amazon Echo, which currently show very low quality of speech recognition in the presence of noise. My goal is to clean out external noises and leave only the required speaker's voice, thus enhancing speech recognition", he explains. "There are two main methods for signal processing. One is statistical processing, based on mathematical and statistical models, and the other is deep learning-based processing, the goal of which is to recognize patterns by practicing on many solved and known samples. In my work, I integrate these two methods."
Read more>>
Farsighted
The technology developed by Dr. Ofer Limon provides vision solutions for 2.5 billion people around the world
Six Over Six, headed by Dr. Ofer Limon, is based on breakthrough technology which performs full optometric testing by means of a software application alone.
"We developed the technology thanks to a different kind of observation of optics and physics than what has been accepted up till now, and out of a deep understanding of optics and years of experience working alongside optometrists," he said. "Our technology enables people to perform the same optometric measurements on their mobile phones, at a time convenient to them, and without leaving their homes, and to use e-commerce platforms to purchase glasses for distance vision".
Read more >>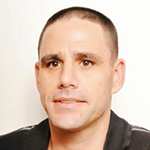 A Challenging International Career
Engineering studies elevated Nir Laufer to Director of Product Management at a Swiss company
We catch Nir Laufer at the airport. He has just returned from Toronto, Canada, where he had traveled in his capacity as Director of Product Management for Oscilloquartz, a Swiss company that specializes in synchronizing communication networks and produces atomic GPS-based watches. "During my three years in this position, I've been almost all over the world, meeting clients, lecturing at conferences and meeting with our development centers", he says. "I spend a considerable part of my time abroad, in the US, Canada, Europe, Australia and Asia, among other places. I even happened to be, by chance, in Japan in 2011, during the massive earthquake that caused the Tsunami".
Read more >>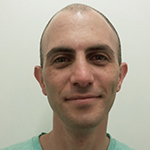 Open and Supportive for Students
Dr. Shmulik Markowitz-Golan chose the Faculty of Engineering due to its leading research teams, and because it provides close relationship with lecturers
Dr. Markowitz-Golan, 36, completed three degrees in electrical engineering, specializing in  speech signal processing. He is currently working on his post-doctorate. "In processing speech signals, we improve signals coming from microphones, which are a mixture of speech and noise. We try to reduce noise, distortions and disturbances, and produce a clearer, higher-quality signal. The uses are diverse: cellphone conversations, tablets and computers, and vocal control of systems", he says. "I love this field. It's challenging, consists of a lot of theory, and requires deep understanding. In addition, it's perceptible. Vocal processing, as well as image and video processing, are fields in which you can really hear and see the effect of the algorithm". 
Read more >>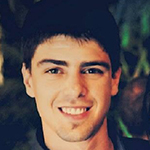 Someone to Run with
For Nadav Arbel, the great advantage of the faculty is the personal relationship with the professional staff 
As part of his final project for his Master's degree, Nadav Arbel developed a laser rangefinder based on a temporary encoding of cyclic signals. "Instead of sending one strong pulse of light and measuring the time it takes to return, I sent a series of weaker pulses and then performed a calculation that contracted the series to one pulse. Thus I could calculate the distance the light passed through", he explained. "The advantage of this measurement is that the intensity needed for transmission is much weaker, it saves energy, and also makes it more difficult to identify you in the surroundings. In addition, the components I used in the system are relatively inexpensive and easy to obtain".
Read more >>