Gained Experience, Gave to the Community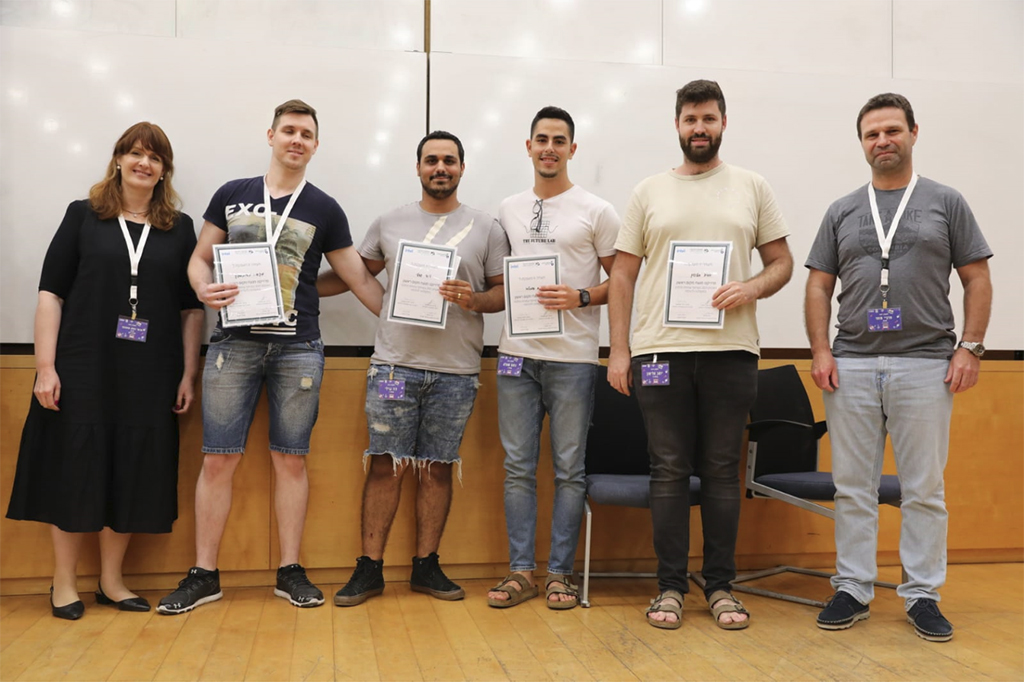 A platform that aggregates accessible services, a universal remote that you can operate using only your fingertips, and another one operated by pressure: these are the winners of the hackathon, held last month at the Faculty of Engineering
Last month, the Faculty of Engineering in collaboration with Tel Hashomer's Milbat organization held a hackathon dedicated to technologies for improving independence and daily functions. The purpose of the hackathon was to aid people with diminished physical capabilities by developing technological solutions to help with daily living. The hackathon began with Milbat representatives presenting difficulties they encounter in their day-to-day lives, and what solutions they sought. The students then divided into teams and worked throughout the night until the middle of the following day, when they showcased their work: from concept through design to development. 100 bachelor's students from the faculty of Engineering, divided into 26 teams, took part in the event, at the end of which the three winners were declared.
End-to-end solution
The first-place winners were awarded $1,000, courtesy of Intel. The group was entirely made up of first-year students: David Gwili (25) and Maxim Borowski (27) of the computer engineering program, and Noam Shamla (22) and Yoav Elinson (25) from the electrical engineering program  "We approached the hackathon with a completely different concept in mind," shares Noam, "but then the Milbat representatives talked about their issues, and Yoav came up with the idea for an end-to-end platform: from business owners to people with diminished capabilities. We were torn between the two ideas. We started out with Yoav's, and later that evening we considered going back to the original ides, and only around 2 AM we decided to go for it. We hit a home run."
The group's platform, Tangish, is a community project comprised of three components: the first is an app that aggregates information on accessible places and services. The app can detect the user's location, detail the accessibility factors and where they can be found (for example, accessible toilets or wide doors for wheelchair access). Alternately, users can search for locations and get all the information ahead of time. The second component of the platform is a website for business owners to update information regarding their accessibility measures and join the project. The third component is an AI-based object recognition app add-on for people with vision impairment: when entering a public restroom, the app "reads" the room and provides voice notification on what's in front of them (toilet, sink, etc.), allowing them to focus and make their way around the room without touching any unnecessary items, thus maintaining their hygiene.
The group developed all three components in one night. "We didn't even know about some of the things, and we figured it out throughout the night," says David. "For instance, with object recognition, we used TensorFlow, which none of us was familiar with prior. Most of us never developed apps or used JavaScript. But with intensive all-night studying and some trial and error, we were able to produce a working prototype the next morning." Noam adds: "the prize money is nice, but we can all agree that the real prize is the experience we gained and the fact that we created something that can really help those in need. We truly believe that this idea can be taken forward and contribute to the community; Intel's representatives took down our contact information, so they could continue to develop the idea because it has a lot of potentials – both for the target audience – people with diminished capabilities – and people from the outside."
Independent interaction with technology
In second place came to a group made up of Nimrod Jaber (23, third-year) and Assaf Grundman (32, fourth-year) from the electrical engineering program (nanoelectronics and bioengineering tracks), and first-year students Ofek Eldar (26) and Daniel Ravnik (28), from the electrical engineering program. "In retrospect, it's amazing that we collaborated so well, because this group was created for the sake of the hackathon, and the first time we got together was that week," says Nimrod. "During the Milbat presentation all of us were intrigued by two issues: how nearly impossible it is for people with disabilities to independently interact with technology, and the fact that there aren't enough games catering to young people with physical disabilities."
With these two issues in mind, the group developed a device made up of two tiny gyroscopes (motion and angle-detecting sensors) that are worn on the user's fingertips. These transmit the information to Arduino, a programmable board. The Arduino translates the finger movements to movements of miniature rotary engines which were constructed on a Bluetooth-supported Xbox controller. "In other words," explains Nimrod, "we have sensors that can identify slight finger movements through the air and translate them to everything we do with our electronics. You can talk on the phone, type on a virtual WhatsApp keyboard, surf the web, and play games. During the hackathon, we successfully constructed the system and demonstrated a phone call and a racing game on a tablet. This means that we solved interaction issues for people with physical manual disabilities. You only need to move your fingertip to control any Bluetooth-supported device."
Their innovation won them $1,000, courtesy of Merck. "The advantage of our project," says Nimrod, "is that you can make this kind of system from scratch for less than 250 ILS and adapt it to nearly any kind of physical handicap; you can expand it and make it more widely usable, for anyone that may benefit from it."
Pressure control
The third group also found a solution for people with manual disabilities: a pressure-operated universal controller. "Our remote is basically a doll fitted with a pressure sensor and a controller that calculates how much pressure was used," says group member Zeevik Meisler (29). "The controller distributes the measured pressure between 1 and 1000, so we can make different pressure values do different things: a value between 1 and 100 could execute one action, a value between 101 and 200 would execute another, and so on. The controller also includes a pressure monitor made up of led lights, for visual confirmation: the more lights light up, the greater the pressure."
The group demonstrated their controller by hooking it up to the online game, Flappy Bird, in which a constantly moving bird must jump to different heights in order to avoid obstacles from above and below. "The bird goes higher the more you press on the space bar, and the player needs to press it many times very quickly," explains Zeevik. "With the doll, one press is equal to several space-presses. The bird will go higher in correlation with the applied pressure."
All members of the group are fourth-year bachelor's students. Zeevik and Sarah Huri (24) study in the electrical engineering program, in the nanoelectronics and bioengineering tracks. Matan Bahat (26) is in the electrical engineering program's signal processing and communications track, and Eldor Shir (26) is in the electrical engineering program's hardware and cyber track. The group won $1,000, courtesy of the Faculty of Engineering's bioengineering track, and are already thinking about other uses for their idea. "You can apply it in many ways," claims Zeevik, "in physiotherapy, for example, it can help people figure out how much pressure they apply."
Last Updated Date : 13/07/2021