Birthright Israel Excel Wants You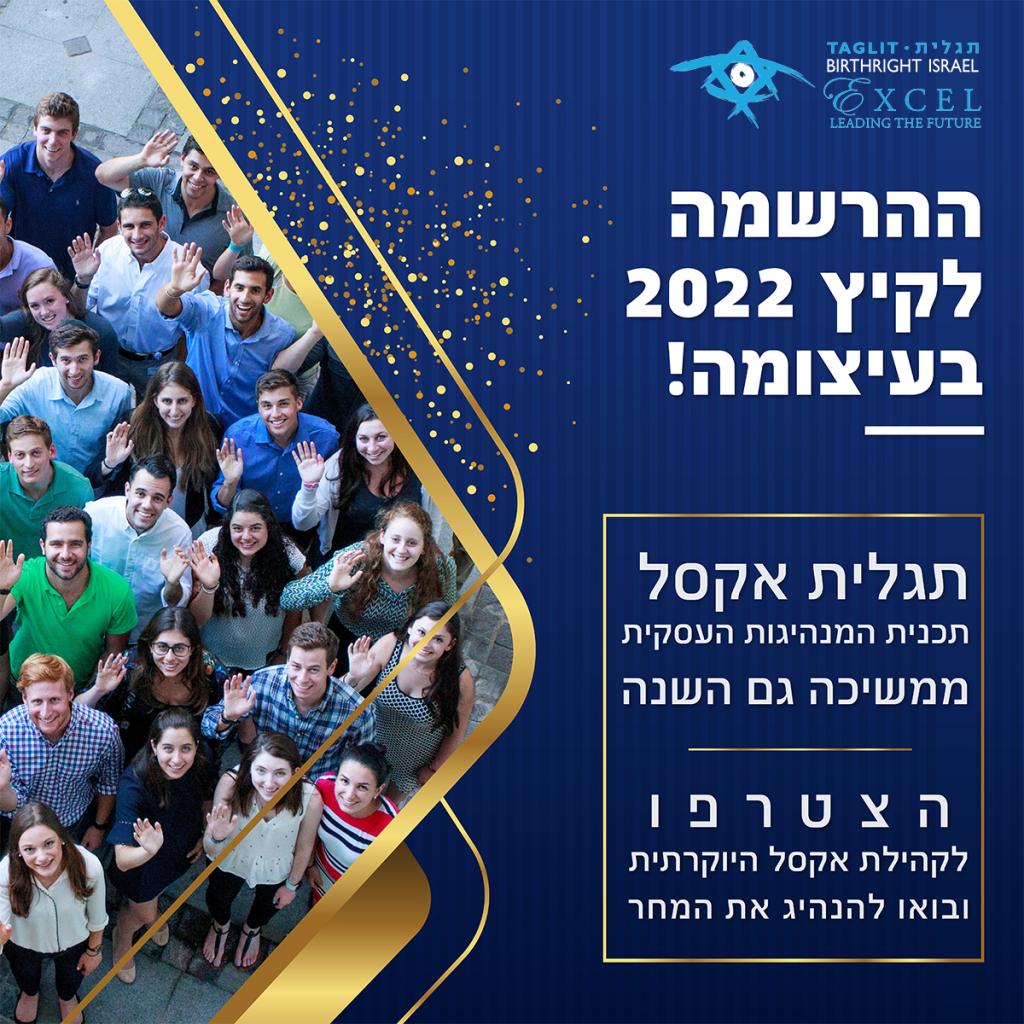 Bachelors students aged 22–26? Birthright Israel Excel, Birthright Israel's business leadership branch, wants you. On the agenda: accompanying students from leading universities around the world this summer.
Birthright Israel Excel was created to develop and empower the next generation of business leaders in Israel and around the world, and strengthen their connection with Israel and the Jewish people. Out of thousands of students from top-tier universities around the world (Stanford, Yale, Harvard, Cornell, Princeton, Penn, UCLA, and others), some 60 students are selected to participate in the special summer program. The summer of 2022 will mark the second year of having young leaders from South America, Europe, Australia, South Africa, and other places. Excel participants spend 10 weeks in Israel (June–August) and experience a professional internship with leading companies in the Israeli market, primarily in the fields of technology and finance. Among the participating companies are Microsoft, Facebook, Checkpoint, Amdocs, Ernst & Young, Deloitte, Magma, Viola Group, VISA, Barclays, IronSource, and many others.
Each participant of this business program is partnered with an Israeli bachelor's student and an NCO from elite IDF units. The Israeli members take an active part in the business leadership program, form personal ties with the foreign participants, and enjoy an opportunity to forge commercial relationships. Israeli participants play a crucial role in reinforcing the bond between foreign participants and Israel.
Participants of the Birthright Excel program enjoy a unique summer experience that incorporates professional experience, exposure to enriching the information, and unmediated social bonds. As part of the educational experience, Excel introduces students to key figures in Israeli society and the business world. Previous guests include Former Vice-Chair of the Federal Reserve, Mr. Stanley Fischer, the President of Israel, Noble laureate Prof. Ada Yonath, CEO of Google Israel, former Director of the Israeli Internal Security Service Yuval Diskin, Facebook IL CEO, Adi Soffer Teeni, Soda Stream CEO Daniel Birnbaum, Nechemia Peres, Nir Barkat, and many others.
Program graduates become a part of a vibrant alumni network that constantly generates numerous social and business opportunities for its thousands of members across the globe. Throughout the year, participants keep in touch with their foreign relations and work together to create events and conferences. The Israeli community offers lectures and professional seminars in business, law, and technology, job opportunities, professional mentoring of young members by veterans, social events, and the flagship event: a two-day conference held annually, with top-tier lecturers.
Last Updated Date : 20/01/2022