When Engineered Germs Meet Nanotechnology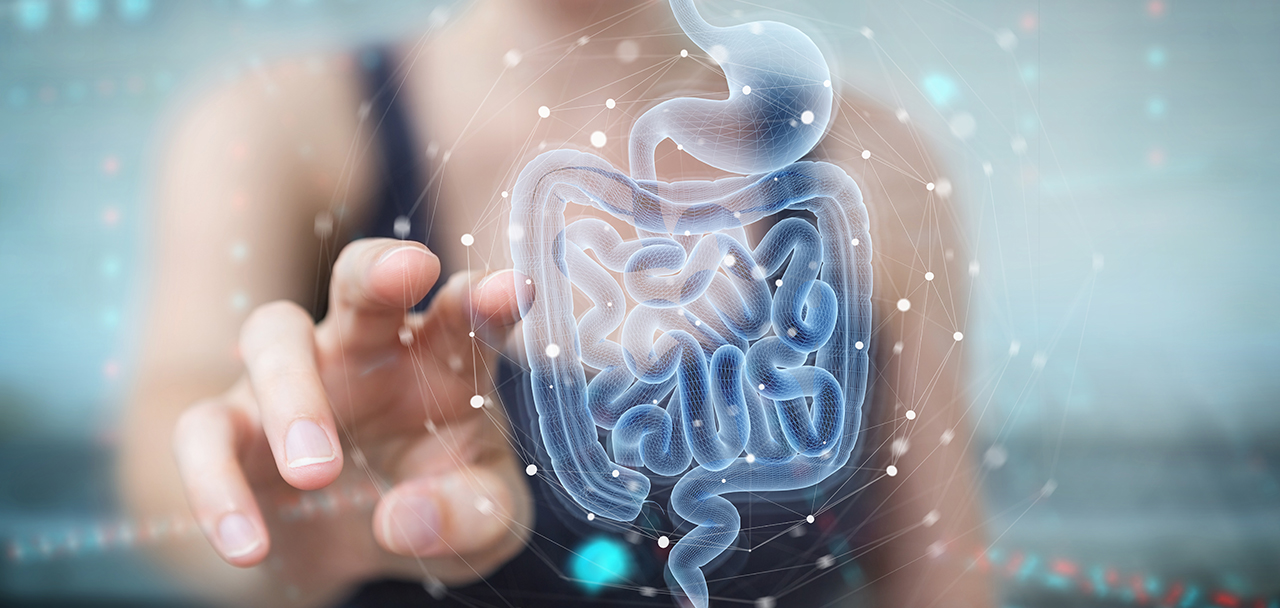 Siginet.bio, a project fresh from Prof. Rachela Popovtzer's lab, won the Ministry of Innovation, Science and Technology's Award for Entrepreneurship Postdoc. The project develops technology for simple, noninvasive disease monitoring.
This November, Dr. Yossi Ben-David and Dr. Shir Hochwald-Liber received quite the news: their collaborative project, Siginet.bio, has won a prestigious scholarship for an entrepreneurship postdoc, awarded by the Ministry of Innovation, Science and Technology. The project is being conducted in Prof. Rachela Popovtzer's lab at the Faculty of Engineering, in collaboration with Prof. Ehud Banin's lab at the Faculty of Life Sciences. Ben-David and Hochwald-Liber develop medical devices with biochips, to be used for microbiome-based monitoring of inflammatory bowel diseases in a manner that is both fast and non-invasive.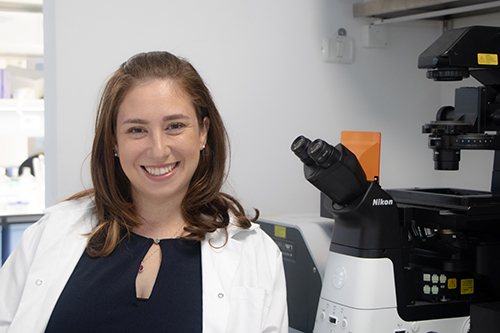 Dr. Shir Hochwald-Liber (33, married+4) has joined Prof. Popovtzer's lab three years ago. She acquired all three of her degrees from the Department of Physics at the Bar Ilan Faculty of Exact Sciences. "Near the end of my doctoral studies, I was considering my professional future. I wanted to pursue postdoctoral studies abroad, but then Covid hit and I decided to stay put," she shares. "I was always intrigued by the applicative aspect of things—how science moves from academia to the real world, where it can be applied to other fields such as medicine. That's how I ended up joining forces with Rachela; she was looking for students, and we started thinking about a good project where I could use my skills as a doctor of physics and join the world of bioengineering."
Dr. Hochwald-Liber and Prof. Popovtzer decided to pursue a project based on bacterial communication and developed an idea which utilizes advanced electronic engineering to distinguish biomarkers—biological markers affiliated with different diseases—and get an indication for their presence using electric signals. "In order to develop this technology, we needed researchers who specialize in microbiology who would be able to engineer bacteria for our technology," explains Dr. Hochwald-Liber. "About 18 months ago we contact Prof. Ehud Banin from the Department of Biotechnology at the Faculty of Life Sciences, with the goal of combining their microbiology and synthetic biology know-how with our advanced electronic systems capabilities. That's how we teamed up with Dr. Yossi Ben-David."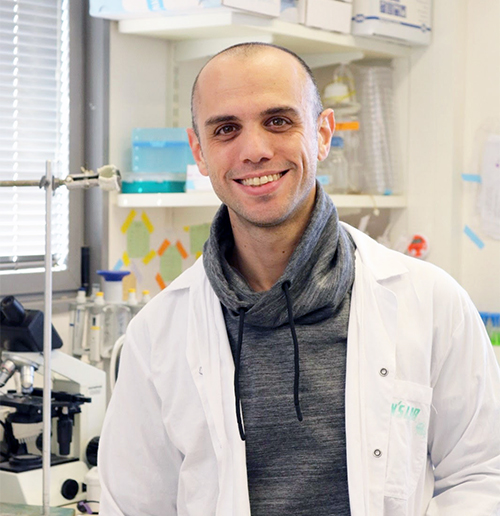 DR. Yossi Ben-David (36, married+2) is a trained microbiologist and biotechnologist. He earned all three of his degrees at the Faculty of Life Sciences in Bar Ilan, and has been working with Prof. Banin since his master's degree. Prof. Banin's lab specializes in bio-film research, methods of cultivating resistant bacteria. "For my PhD, I researched one specific, highly versatile bacterium called pseudomonas aeruginosa, which we now use to build our biosensors. It has a large genome that reacts to many types of molecules," he explains.
Dr. Ben-David joined the project, dubbed Siginet.bio, and his first study focused on bowel diseases. He brought in engineered bacteria, biomarkers that can identify bacterial communication molecules—quorum sensing—through which bacteria communicate with one another. "Every one of my bacteria can identify a specific molecule an respond with an electrical signal, elaborates Ben-David. "We look for these molecules in stool samples from healthy people and people with Crohn's and colitis. We assume that people who suffer from these conditions exhibit a change in their gut microbiome, and we expect to see a change in how these bacteria communicate inside the bowel."
The engineered molecules, explains Dr. Hochwald-Liber, emit an electric signal if they identify the sought-after molecules in the samples. "The electronic system we built can translate this biochemical information to an electric signal we can measure," she says. "In other words, we can actually get an electrical fingerprint for certain medical conditions, compare that with samples from healthy people and identify disease patterns that can expose outbreak or remission, or how the disease reacts to treatment. This technology is great for identifying and monitoring diseases in a way that is fast, effective and noninvasive. We're advancing the technologies currently available on the market."
Siginet.bio works closely with UnBox, Bar Ilan's research-based entrepreneurship center, which provides them with all the business support they need to become a proper company: from recruiting a CEO to validating clients to raising funds. Siginet.bio won a one-year scholarship, and they are hoping to have the company up and running by the end of 2023. "The greatest advantage of this technology is that it's generic and can be used for many things—in disease research, for sure, but in other fields as well," assures Dr. Hochwald-Liber. "As of today, we're collaborating with other entities and developing this technology for other applications, such as identifying biological and chemical threats, or in agriculture and the food industry."
Ministry of Innovation, Science and Technology's Award for Entrepreneurship Postdoc
Last Updated Date : 27/11/2022