PhD student by day, author by night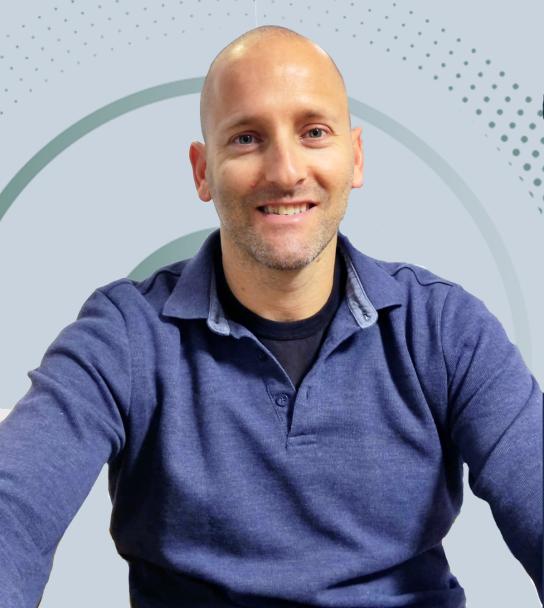 In October 2022, Noam Kalush started working on his PhD at Prof. Hillel Kugler's lab. Earlier that year he published his first book of prose, and a crowdfunding campaign for the second one is already underway.
Noam Kalush (42) wears two hats. One is that of a PhD student, a husband, and the father of two children who spends his days at Prof. Hillel Kugler's lab, where he specializes in computational biology. "I have two degrees in mathematics and computer science, one from Ben Gurion University and one for the Hebrew University. I specialized in researching advanced automata," he shares. "After completing my master's I was trying to decide what's next. I enjoyed my studies, but it was so theoretical, there was no chance of me using it in real life, and I couldn't find anything to be passionate about in the industry. I started contemplating a PhD, but I wanted something that wasn't too abstract, so I began looking into more practical topics. I started reading papers by local researchers, which led me to Hillel, whose work pertains to using automata and other tools from that realm. I had nothing to do with biology before that, and I loved the idea of connecting everything I've learned to biology. So I audited Hillel's fundamentals of computational biology and discovered a mind-blowing world. I applied as a student this past October, and I hope to continue to enjoy my studies."
His second hat is that of an author, with three books under his belt. "A little over a decade ago I had this idea pop into my mind, about civil rights for alternate personalities ("alters") that reside in the minds of people suffering from dissociative identity disorder," he recalls. "I remember thinking, what if one of these alters came up and said, 'excuse me, I'm not some imaginary figure, I'm another facet of this person's identity and I deserve rights.' When a new drug comes out that threatens to eradicate the phenomenon of alternate personalities, the alter hires a lawyer and fights for its rights and future in court. I never dabbled in writing before that, but I said what the heck, I'll try to write a book about it. I wrote four or five chapters and then life got in the way—marriage, job, school, kids—and it kept getting shoved back in the drawer. I was nearing 40 and I said, that's my deadline, if I don't get it done now, it's never going to happen. I sat down every night after work, when the kids were already in bed, and wrote and wrote and wrote… as much as the brain could take. I finished the book in a month and a half."
Kalush's efforts became his debut novel, Between the Scales, which was published independently in early 2022. "I tried offering it to publishers, but eventually decided to go the independent route. I consulted authors' groups, hired an editor and two proofreaders, and used a design studio for the cover and layout. It took six months, and finally I 'came out' as an author; until then, no one outside my close family knew about my writing, never mind the book itself," he says. "Now I'm working on my PhD while also marketing the book, giving lectures, and meeting with people. It really opened up something inside me, and I already wrote two more books."
His second book, Footsteps in the Water, is currently being promoted in a crowdfunding campaign. "It's a thriller about three good friends who encounter hostile forces during their military service; as a result, one of them suffered a head injury that prevents him from retaining new memories. He keeps coming back to the same point in time, before the injury. A decade later, he and another former member of his team go to South America to visit their third friend who lives there. Our injured protagonist gets involved with a local gang and flees. As he runs through the back alleys of the city, his memory dissolves and he finds himself in a foreign place in a strange country, and must figure out where he is and what is happening to him."
This time with more experience under his belt, Kalush approached this second project with a different mindset. "When I published the first book, no one knew who I was, so I funded everything myself. This time I decided to wait a while and focus my efforts on marketing. I started publishing short stories on Facebook, in different genres, with a cool twist or a surprise angle to a familiar topic, to which I add an eye-catching image to get the readers to click and read more. These stories generated considerably interested. I ended up with a community, of people who know me from Facebook mainly because of these short stories. Now I'm starting an 'all or nothing' crowdfunding campaign—experience has shown that people are more likely to contribute to these sorts of campaigns, plus most of the people I know who went that route, succeeded. I urge students at the Faculty of Engineering to visit, read, and if they feel like it, support the campaign and choose from one of the perks I offer as a thank you. I guarantee it's going to be interesting."
Noam's crowdfunding campaign is up and running! Click here to support his upcoming book
Want to read more? Visit Hamila Haktuva for all of his works.
Last Updated Date : 30/01/2023