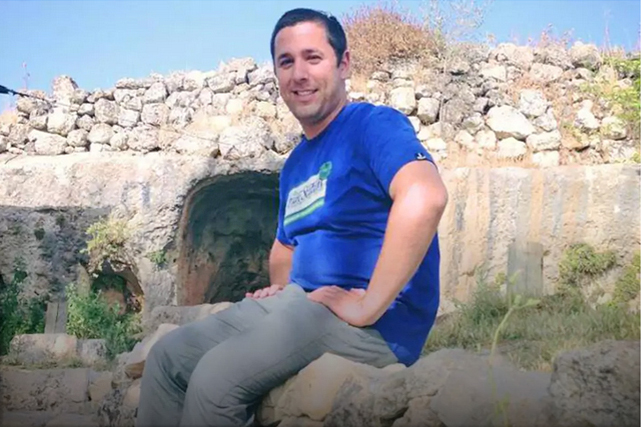 Faculty alumnus Moshe Gamliel suggested a new term in optics to the Academy of the Hebrew Language, in memory of Dany Gonen ZL who was killed 8 years ago. This week, the Academy's plenary committee approved the new term.
This past January, the Academy of the Hebrew Language approved the Hebrew term halata—cloaking, a term in optics that refers to the shielding of an object by creating an envelope that redirects light waves to create an illusion of transparency. The term halata was proposed in honor of Danny Gonen, a student of the Bar-Ilan Faculty of Engineering who was killed in a terrorist attack near the Dolev settlement in 2015. He was 25 years old. Moshe Gamliel, Faculty of Engineering alumni, applied to the Academy in Gonen's honor:
"I started at the Faculty of Engineering in 2015. I had gotten to know my classmates and had the wonderful opportunity to get to know my professors' fields of research, thanks to the Overview to Engineering program. My story was born of these two events.
First, Danny. A quiet but friendly guy, he wasn't typically in my closest circle, but in that large lecture hall we both chose to sit close to each other, we'd talk occasionally—I remember him joking about the recorded "thank you" from the vending machine—but we never really got into any deep conversations. He was a pleasant guy, I liked and appreciated him, but I only knew him a little.
At one of those overviews of Engineering classes, I sat not too far from where he chose to sit. The professor was explaining the research he was involved in—eliminating an object from a visible field of vision. He mentioned that the action is called "cloaking", in obvious reference to the mythical invisibility cloaks, and mentioned that there was no Hebrew term for the action they were performing in said research, so they used the general term hastara ('hiding'). Danny heard this comment about the lack of Hebrew terms and whispered to me, 'we could call it halata.' If memory serves, he gave an example from the book of Samuel, where Goliath's sword is said to be luta be'simla—covered in a gown, thus providing the context that demonstrates the brilliance and accuracy of this choice. Being first-year students, neither I nor he did anything with the idea; we didn't mention this to that professor (I can't recall who he was), or anything else to that end.
Sometime near the end of the school year, on Friday, the second of Tamuz, Danny went out to a spring near Dolev, where he was murdered. I remember the utter shock I felt when I learned about it after Shabbat was out, the moment of silence Dr. Alexandra Agronovich opened the day with—she was the first to speak to us about it; the heartfelt words spoken by Dr. Rony Bitan in his memory. Then from shock, we shifted to commemoration and memory, and life almost returned to normal, paired with a crystal-clear memory, the feeling that one of us was missing, someone who started the journey with us and was suddenly taken away.
All through those years, I kept that memory of Danny, but I couldn't remember who the lecturer was, or figure out what to do with that idea. About a year ago, in the winter of 2022, I decided it was time to act. I contacted the Academy of the Hebrew Language, told them the essence of this story, and left them with the responsibility for this new word. Now I see the task has been completed.
I believe that Danny, HYD, impacted many people and left behind plenty of goodness. Even without my suggestion, his memory will never be forgotten, and he is singed into the hearts of his many friends. But turning his idea into an official term is a nice memorial, what little we can do to keep his memory alive."
Read more about the term halata on Academy's Facebook page (in Hebrew).
Read the story on the Academy's website.
Click here for the story as it appeared in Israel Hayom.
Last Updated Date : 29/01/2023